Live, Hands on Workshop on Vitrification of Oocytes and Embryos by Cryotech Japan

Cryotech Japan, in collaboration with Indo Nippon IVF conducts Round The Year Certificate Hands on Vitrification Workshop. Candidates will gain extensive hands on experience and practical skill
in Ultra Rapid Vitrification and warming of oocytes and embryos, with one on one tuition sessions using the Cryotec system. This workshop is held round the year, on mutually convenient dates. Dr Masashige
Kuwayama developed the Cryotop method in 2000. Now with major improvement of the solutions, and with the newly designed vitri/warm plates, he has developed a near-perfect vitrification method, known as
Cryotech Vitrification. Vitrification is highly skill dependent and stringent adherence to the protocol cannot be over-emphasized. After obtaining the correct training from our expert instructors,
all participants can achieve excellent post-warm survival rates for oocytes, embryos and blastocysts, and the highest possible pregnancy rates!
We take pride in training the participants very efficiently and ensure that they are capable of achieving 100% survival with Cryotech Vitrification after the training.
Venue:


Indo Nippon IVF
36 Turner Road, B wing
#304,305 Third Floor
Bandra West
Mumbai – 400050
Phone- +91 22 26552000; 26405000

Landmark: Above Fab India
Opp Crossword Bookstore

Workshop Program:


09:00 – 09:05 Inauguration

09:05 – 09.30 CryoTech Vitrification Lecture- Goral Gandhi

09.30 – 10:00 Animation Protocol

10:00 – 10:15 Coffee Break

10.15 – 11.15 Live Demonstration of Oocytes & Embryo Vitrification

11:15- 14:00 Hands on Training

14:00 Course Certificate Distribution
Course fees: Rs.25,000/-
Spot Registration fees: Rs.30,000/-
The registration fees will be waived off for participants purchasing Cryotech media on the day of the workshop.
A: Payment by Cheques or Demand Drafts:
Please note that only local Mumbai cheques favoring "Indo Nippon Medical Trading Co" will be accepted
All other registrations have to be accompanied by a Demand Draft favoring "Indo Nippon Medical Trading Co" payable at Mumbai
B: Payment by Direct Bank Transfer
Beneficiary Bank– HDFC Bank LTD., Ground & First Floor, Chandni Apartments, Bandra West, Mumbai 400050
SWIFT CODE- HDFCINBB
Beneficiary Name- INDO NIPPON MEDICAL TRADING CO
Beneficiary Account No.- 13162320000537
C: Payment for Spot Registrations
Payments for Spot Registrations at the Pre-Congress Venue will be accepted in cash in INR only.
Cancellation and Refund Policy
Our office must be notified in writing of all cancellations
Cancellations made 1 month prior to the scheduled date will be given 50% Refund
Cancellations within 1 month of scheduled date: No Refund
To register or know more about these training workshops, write to us at info@cryotecindiaproducts.com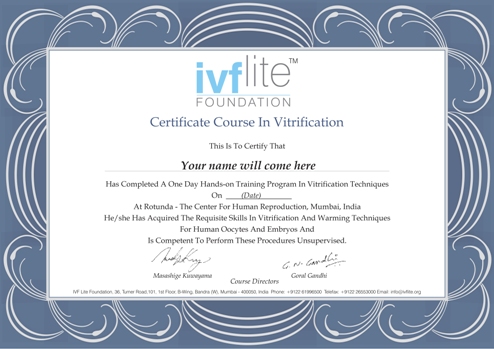 Alumni
We have helped many doctors and scientists to achieve competence in vitrification techniques. Our vitrification workshops are always well attended by junior and senior embryologists and clinicians. Some of the names of participants who have attended the workshop is as follows:
Marco Toschi, Spain
Dr. Arun Patil, Mumbai, India
Laurel Stadtmauer, USA
Rajneesh Sehgal, Mumbai, India
Mike Boerema, Australia
Saroj Agarwal, Kolkata, India
Vuk Jovanoic, USA
Rashmi Goenka, Guwahati, India
Markus Nitzschke, Switzerland
Dr. Sebanti Dash, Chennai, India
Thomas Huang, Honululu
Dr. Anu Matthews, Kochi, India
Dr. MerihTekcan, Turkey
Dr. Shehbaaz Daruwala, Pune, India
Nicolle Lorraine, Australia
Dr. Anuradha Shewale, Aurangabad, India
Kingsley Onwuzurigbo, Africa
Shrikant Yatnale, Pune, India
Angela Ho, Singapore
Vijay Mangoli, Mumbai
Poonam Patil, Dhule, India
Dr. Priya Mahajan, India
Zeba Ali Jahangir, India
Nishad Chimote, Nagpur, India
Kavita Murdeshwar, Mumbai, India
Datta Naik, Mumbai, India
R. Venkataram, Mumbai, India
Alka Gupta, New Delhi, India
Gajanan Naik, Mumbai, India
Dr. Manju Jilla, Aurangabad, India
Dr. Sheela .A. Patwardhan, Solapur, India
Elizabeth Mathew K, Cochi, India
Dilbinthi V,Cochi, India
Reena Lal, Rajkot, India
Dr. Ashish Sood, Udaipur, India
Mona Gandhi, Deesa, India
Vrunda Kuchekar, Mumbai, India
Arya Salaskar, Mumbai, India
Dr.Mansukh Gabani, Surat India
Sindhu Rajappan, Mumbai, India
Mangesh Sanap, Mumbai, India
Narendra Gupta, Jaipur, India
Pratik Tambe, Mumbai, India
Ashwini Ojale, Mumbai, India
Mridula Sharma, Bihar, India
Preeti Bhandari, Mumbai, India
Geetanjali Munugoti, Secunderabad, India
Jignasha Chauhan, Mumbai, India
Janavi Sanghvi, Mumbai, India
Kaushi Kundu, Kolkata India
Nandkishore Naik, Mumbai, India
Devika Joshi, Mumbai, India
Anoop Gupta, New Delhi, India
Mukesh Agarwal, Mumbai, India
Mrityunjai, India
Antar Maharana, India
Prasana Mohanty, India
Nivedita Pawar, Nashik, India
Herman Fernandes, India
Goral Gandhi

Course Director

Sakina Kagalwala

Expert Instructor

Shraddha Shetye Kapdi

Expert Instructor

Priyanka Pangerkar

Expert Instructor